Lesson 1 The Basics.
Before you start your lesson here is a brief description about how this course works. We have found videos by many different experts. You could easily find these on your own; however, we have saved you the trouble. These videos will show you the basic skills that you need in each lesson. Make sure you understand each lesson before moving on to the next. In many cases it is a good idea to watch the video several time.

You will also want to practice you newly acquired skills. The skills of a locksmith require constant practice. If you are like most locksmiths practice will not be a chore it will actually be fun.

Now lets get started!!

In this lesson you will learn some of the basics of locksmithing. After completing this lesson you should have a basic understanding about keys and locks.

When it comes to learning how to become a locksmith the basics are essential. In order to become a competent and successfully locksmith you must understand and master the basic fundamentals of the trade. This course is laid out to help you do do just that. We have gathered videos for various locksmiths and put them together on this website to teach you the skills you need to become a locksmith.

We strongly recommend that you go through these lessons in the recommended sequence. You will probably find that you are able to start performing various tasks before you complete all of the lessons. If you are confident in your new skills and feel that you are ready to perform them then we encourage you to do so.

You can offer to do work for free for your friends and family to gain some real world experience. You can also try to work out an apprentice deal with a local locksmith.

(

DO NOT BE DISAPPOINTED IF THEY SAY NO AND/OR TRY TO DISUADE YOU FROM BECOMING A LOCKSMITH. REMEMBER YOU WILL BE TAKING WORK FROM THEM)

Once you are confident in your skills it is time to recruit some customers. But we are getting a littlie bit ahead of the ourselves here. It is time to get started with your lessons.

So lets get started the two videos below cover the basics about locks and keys and the different types of locks. Please watch them in there entirety.




Basic parts of a key.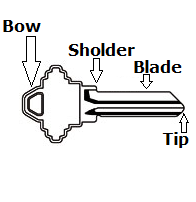 If you are comfortable whit the material above then it is time to move on to the next lesson.
Click here
to go to the next lesson.